Today's Current Scrap Metal Prices Per pound
Copper prices are down this week. Prices have been coming down for the past couple of weeks, so we were forced to take prices that we pay down. At this time it is not clear when prices may come back up. Call 919-828-5426 and press 2, to hear Today's Prices.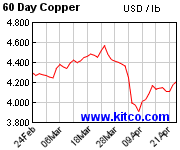 Copper Prices on World Markets

Copper Prices Per Pound, Raleigh, NC Scrap Metal Recycling
Some good news is that our assortment of what we buy is larger than ever before. It includes batteries,

aluminum cans

, AC Units, hot water heaters, appliances and even steel cans (soup cans, tuna cans). We even buy Kitchen sinks, and we have great house wire prices. We will keep your free hot coffee brewing every day, and we'll remain the metal recycling facility that has
more scales than anyone else in all of North Carolina because we're dedicated to getting you in and out as fast as possible. When it comes to all types of scrap metal, we are the experts and pay you the most we can for each type of scrap metal you have. Also, yes, we always

pay cash

right from our onsite ATM machines, though we'll gladly do checks as well if that's what you

'd prefer

. We even stay stocked with fresh green ink to give you 'new' dollar bills. OK, just kidding on the green ink!